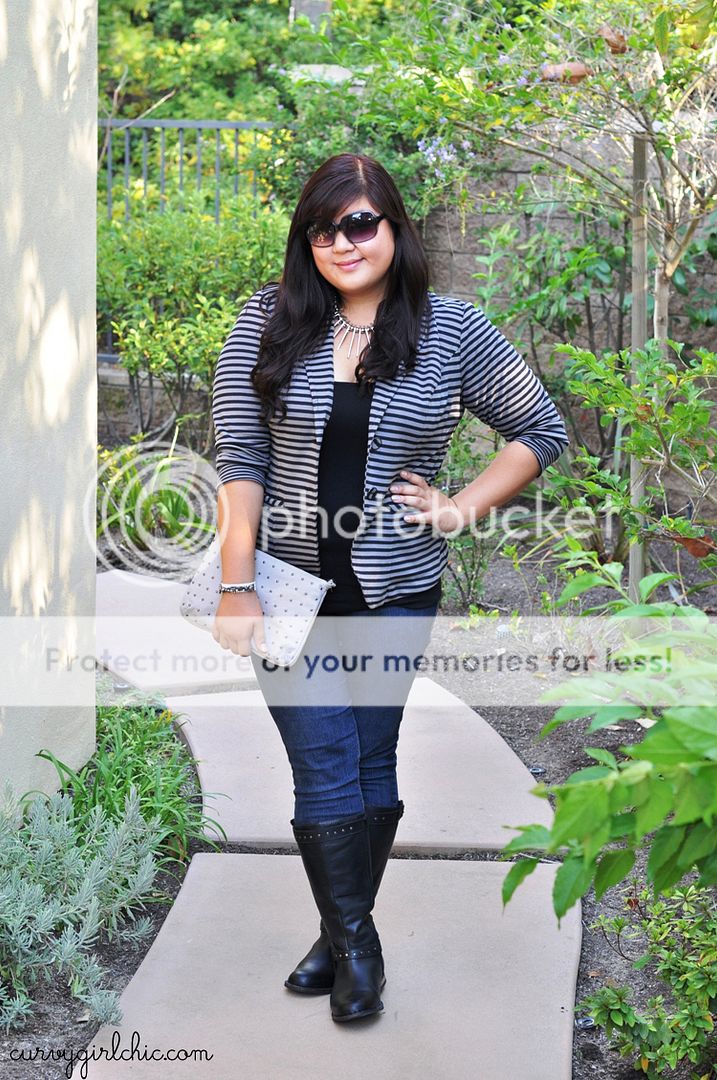 [ :: Torrid blazer c/o (
here
) :: H&M tank :: Torrid jeans (
here
) :: Simply Be boots (
here
) :: ]
[ :: H&M clutch (
similar
) :: Forever21 necklace (
here
,
also awesome
) :: Chloé sunglasses (
here
) :: ]
[ :: Torrid blazer c/o (
here
) :: H&M tank :: Torrid jeans (
here
) :: Simply Be boots (
here
) :: ]
[ :: H&M clutch (
similar
) :: Forever21 necklace (
here
,
also awesome
) :: Chloé sunglasses (
here
) :: ]
Hey guys! I'm in New York right now but I thought I'd share an outfit I wore during the ONE day it dropped below 75 degrees last week! You know, before it shot up to a blistering 99 degrees. >_<
I've been on a blazer kick recently (scroll down for evidence!), and this striped one from Torrid is probably the most comfortable one I've EVER owned! It's sweatshirt-y, and the whole thing is knit, so it's like wearing pajamas! It's the snuggie of the blazer family. But in a good way. With way more polish. Love!
Kept thing simple with skinny jeans and new riding boots from Simply Be. Also, how kick-ass is that spikey necklace?? It's all 3D and spikey and shiny. Good traits for a necklace to have.
Honestly, I just want it to be cold so I can start wearing things like my capes and boots, and scarves, sweaters, leather, tights, more blazers...can't help but feel like I'm in a fashion rut until it cools down! Anyone else in the same boat??
Edit: I got a few emails last week about whether I permed my hair or not, but all I did was curl my hair using a hair styler from ghd, which is probably the
best flat iron
I've used! It doesn't snag hair and preheats really quickly. Either way, it's an awesome styler, and is great for creating loose beachy waves that last for a long time! :) I definitely recommend it to anyone looking for a high quality styler. :)