Last Friday, a few of my favorite bloggers and myself were invited to check out the new plus size swimwear line by Rebecca Virtue,
BECCA ETC
!
I can't express how excited I am to have another awesome plus size swimwear line out--BECCA ETC is full of flirty swimsuits in gorgeous colors, with fun details like sassy hardware and chic shapes, and an awesome selection of coverups perfect for going from the beach to drinks with the girls. What's amazing about this line is that there really is something for everyone--Becca Etc. includes bikinis in a variety of colors, tankinis in cute shapes with adorable crochet detailing, and chic one pieces for a little extra coverage.


Rebecca Virtue, designer for BECCA ETC
Wheeee~~
Monique
,
Chenese
,
Rebecca
, and
Cid
!
One of the things I loved about the BECCA ETC line is its awesome use of color and prints. All too often, plus size women are stuck with the basic black or navy one pieces in some tummy-cinching "control" fabric! I'm all for a little smoothing out, but sometimes you just want to look cute and not feel like you've got spanx on. Just check out all these colors and threads in their sewing room!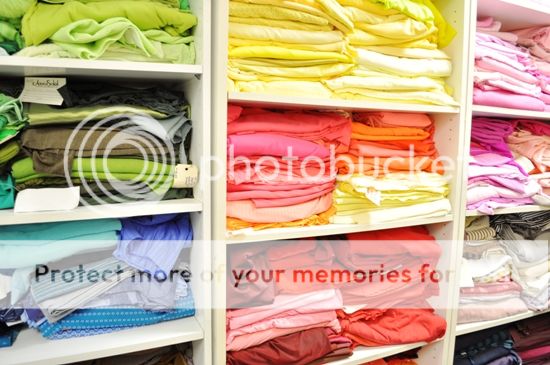 Onto the good stuff...here are a few of my favorite looks from the swimwear collection!
From the"Animal Instincts" collection! I'm totally getting that swimdress and one shoulder coverup. SO cute!
From the "blossom" collection. Cute print, LOVE the coverups!
Also from the "blossom" collection...Both the top and bottom are reversible! :P
Rebecca talking about her signature crochet pieces--the detailing is gorgeous! It's so nice to see colors and textures used on plus size swimsuits!
BECCA ETC also carries these shapes in basic black, bright coral, and aqua, and is currently offered in sizes 0x-2x, (ranging from a 14-22). In my opinion, it runs a little small, but, like most swimsuits, I'm sure it forms to your body with use. The attention to detail is fantastic--the tops have double reinforced boning on the sides, eliminating the need for an underwire (at least for me), and the hardware, and ruffles, and fabric textures are to die for. Overall, I'm super happy that in a category of
plus size fashion
(spon link) that is so often overlooked, BECCA ETC is seeking to fill a gap!
BECCA ETC can currently found online at
Everything But Water
,
Bonton.com
, and will be stocked at Nordstrom, Macy's, and Everything But Water stores.
For more updates on what's happening at BECCA ETC,
follow them on Facebook
!
You can also check out the full
2012 collection here
!