[ :: H&M zipper dress :: Banana Republic trench :: OSP lace panel leggings :: ]
[ :: Torrid boots :: Ora bag :: Tiffany&Co bangle and NY&Co braclets :: ]
My outfit was all about comfort today since I had a ton of errands to run. (OH! Sara and Gabi, your packages are in the mail and on their way! :) ) Got the lace panel leggings since I'm sad to say, I'm not quite ready for the full-on lace ones. Also wearing the H&M dress that reminds me of cargo pants for no apparent reason. Which I also plan on wearing with my new shoes when they arrive!! :D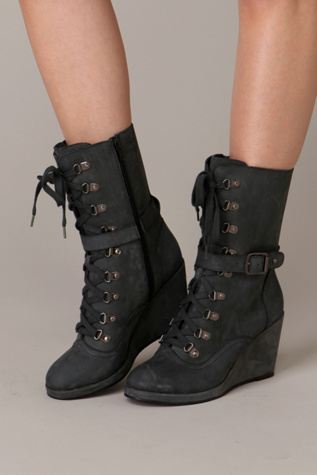 [ :: Jeffrey Campbell Mayhem Wedges :: ]
Aren't they amazing?! I'm completely in love with them. Even paid the extra $10 for 2 day shipping!
I hope they fit!! *fingers crossed*
Anyway! Isn't the doggie in the top photos SO CUTE?!?! He was so nice and fluffy and clean and soft! Or so I thought until the owner walked over and told me that her dog always goes for girls in black tights and leggings...specifically to get dog hair all over them. Then, when he scampered off I realized he had drooled all over my new leggings. *sigh* I feel like I'm constantly being outsmarted by four-legged creatures.
Yours, Etc.
CurvyGirlChic